Administrator
Staff member
Joined

Dec 21, 2008
Messages

417
Reaction score

89
Location
We have a buyer/seller feedback system on this site.
Its purpose is so that if you buy or sell something to another member, you can indicate the level of satisfaction you have with the transaction. This is so we can have a better idea of which members deserve to be trusted.
I encourage you to leave feedback so others can know if the member is trustworthy.
The way feedback is given is after you have completed your transaction, simply go back to the for sale thread and click the ADD FEEDBACK link under the member's name.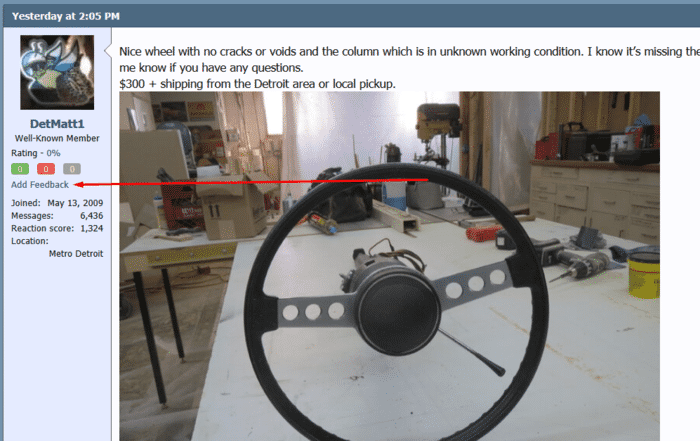 A box will pop up where you can select if you were the buyer or seller, your level of satisfaction and explanation about why your leaving the feedback. You don't need to add the URL as that is now automatically entered. You then add a short review such as "Great Seller" - and details about why you rated the person positive, negative or neutral. For example, you might say "Parts well packaged and arrived quickly!"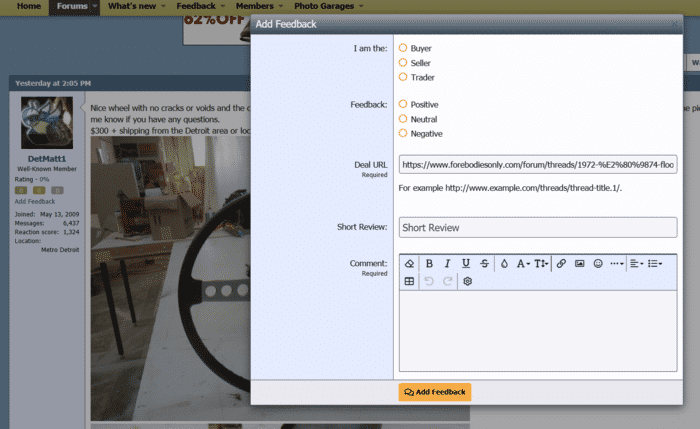 You can also add feedback by clicking on the person's username in a thread or from their profile then clicking ADD FEEDBACK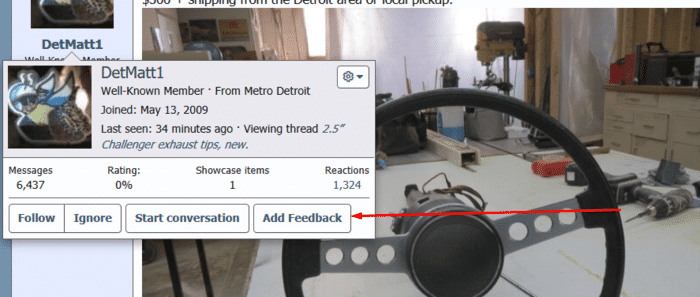 The same pop up box above will come up and need to be filled out, but you'll have to add the deal thread URL which you can copy and paste from your browser address bar. This is required. If there isnt a for sale thread on this site you cannot leave feedback.
I encourage you to leave feedback so others can know if the member is trustworthy.
I also encourage you to be fair and reasonable in your feedback. Big things feedback should be based on are -
Did you get paid as agreed
Did you receive the part(s) in a timely fashion
Did you receive what was advertised / promised in the condition represented.
You should NOT post feedback based on any transaction where money didn't exchange hands. In that case no sale happened.