Joined

Apr 25, 2014
Messages

484
Reaction score

34
Location
Contact seller
I found that i have a box full of exterior body panel Emblems for lots of the Chrysler, Dodge, Plymouth, cars from the 1960's, and 1970's.
Had these from back in the 1980's, the past 40 years, when wandering around the U Pull It wrecking yards, back in the day.
Completely forgot that i had these until now, when organizing things in the garage.
Anyway, don't ask what year, make, model, car they came off of, as i never kept track of that, or remember what i pulled them off, donor cars.
You can figure things out for yourself by looking at them, as they pretty much are self explainable.
I primarily sell brake, and suspension parts on these forums, and never sold emblem parts like this before.
So I'm not really sure what to ask for them.
Did some research on ebay, and some of these emblems are wanting big dollars from the sellers.
Tell me which emblem(s) you are after, and make me a respectable offer that i can live with without low balling me.
Lets call it putting them up for a best offer price.
Let's say $10.00 to $100.00 for whatever emblem(s) you might be interested in.
Payment, i accept Pay Pal, or a postal money order.
And i will mail out to your zip code for whatever the mailman wants, and whatever i need to package them up in.
Interested in anything, send me a message thru this forum.
Thank's a lot.
Jim V.
hemi71x
FYI
Update.
The DEMON emblem Sold
The small 440 emblems Sold
The "Star" Emblems Sold
The Small 'Cuda emblem Sold
The'Cuda 383 emblems Sold
The Small, tiny VALIANT emblem Sold
The small Plymouth emblem Sold
I have sat down a priced out a few more of the emblems in the picture(s)
1. BARRACUDA emblem. (In red) The small one $20.00
2. Script Barracuda emblem. the bigger, silver one) $30.00
3. The small PLYMOUTH emblem. $20.00
4. The big Plymouth emblem. $30.00
5. That little, tiny, VALIANT emblem. $10.00
Some other unsold emblems are listed on the B & C Body sites, under Exterior parts.
Thank's for clicking on the page.
Jim V.
hemi71x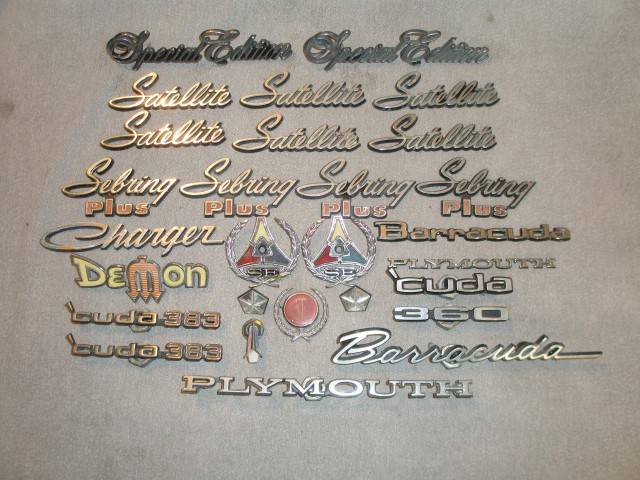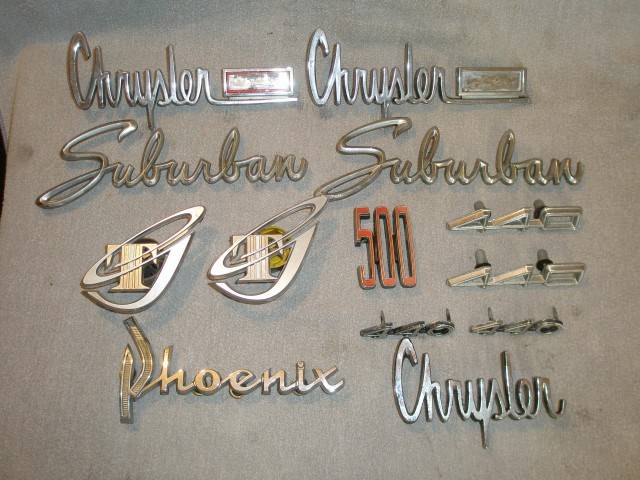 Last edited: