Joined

May 18, 2019
Messages

49
Reaction score

22
Location
First off, thank you to all the fine members of this forum. I used many of your posts and advice to come up with a plan for moving forward. I decided to upgrade my 14" wheels and tires to a set of 17" wheels and tires. 17 X 8 up front with 245/40-17 tires and 17 X 10 in back with 275/40-17 tires. Yes, I did relocate the rear spring perches (again with help from this forum).
My car was always pretty squirrelly, so I was nervous about going to lower profile tires without addressing the handling, steering vagueness, etc. of the original setup. So here is the list of mods and the results to date.
The first thing I did was to upgrade the steering assembly by rebuilding it and adding the bearing at the engine compartment side. (thanks to you members for suggesting that upgrade). Then I had my steering box rebuilt by Stear and Gear to the R/T spec with the firm feel setup. They did a fantastic job. I also added the longer idler arm. I purchased it from Stear and Gear. Thanks again to them for guiding me through this process.
Lastly, after much debate and looking at the many options out there I decided to upgrade to the QA-1 upper control arms with the thought that if this didn't get me to the feel and handling I was looking for, I could always upgrade to the option from a well known suspension tuner that included the bump steer correction (upper control arm, with front pivot point relocating bracket, corrected tie rod links, etc.). I did some calculations to see what modifications would be required if I were to make upper control arms myself (yes, I have this capability), but after doing the calculations and looking at the price of the components, it made sense to buy arms with the relocated ball joint to compensate for the camber/caster changes that would make the car drive more like a modern vehicle. Thanks for the post from CudaRagTop. I've seen it in other posts, so if you are the original creator, please accept my apologies. Thanks to CudaRagTop for posting nonetheless. I chose to go with the typ. perf. street setup. I plan to autocross once in a while, but mainly street performance driving.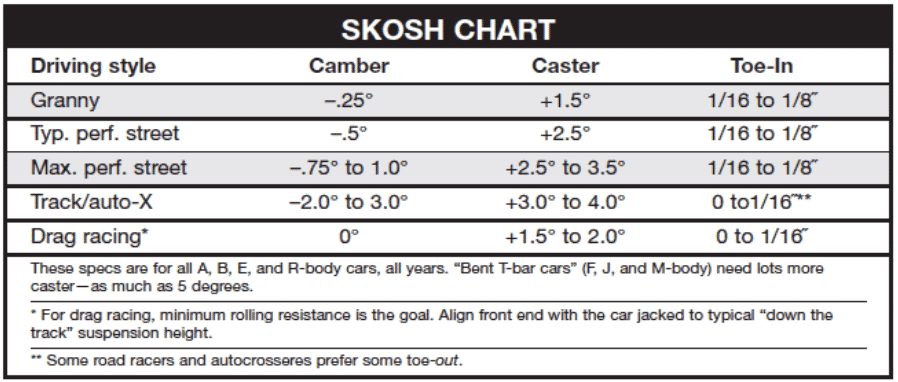 After recieving the QA-1 control arms, I laid them out next to the factory upper control arm to see how significant the changes are. See the photos below. It was hard to find a camera angle that really showed the differences, but the ball joint is further towards the rear of the car as expected, but a tiny bit further outboard. It was a little hard to tell how much as I did not build a jig or fixture to check them.
I did the alignment myself with the help of one of my racing buddies and we ended up with 3/4 degree negative camber on both fronts, and about 1/16" toe in. I haven't measured caster yet, but It is probably more than the 2.5 degrees. I'll be taking it to an alignment rack to do some additional fine tuning. I took it out for a test drive after completing the install and am very happy with the results. On-center feel is night and day better than it was and the car tracks true with no wandering or following grooves in the road. This was a big concern as many older cars I've driven with low profile tires tended to exacerbate this effect. If you are contemplating this change, I highly recommend it.